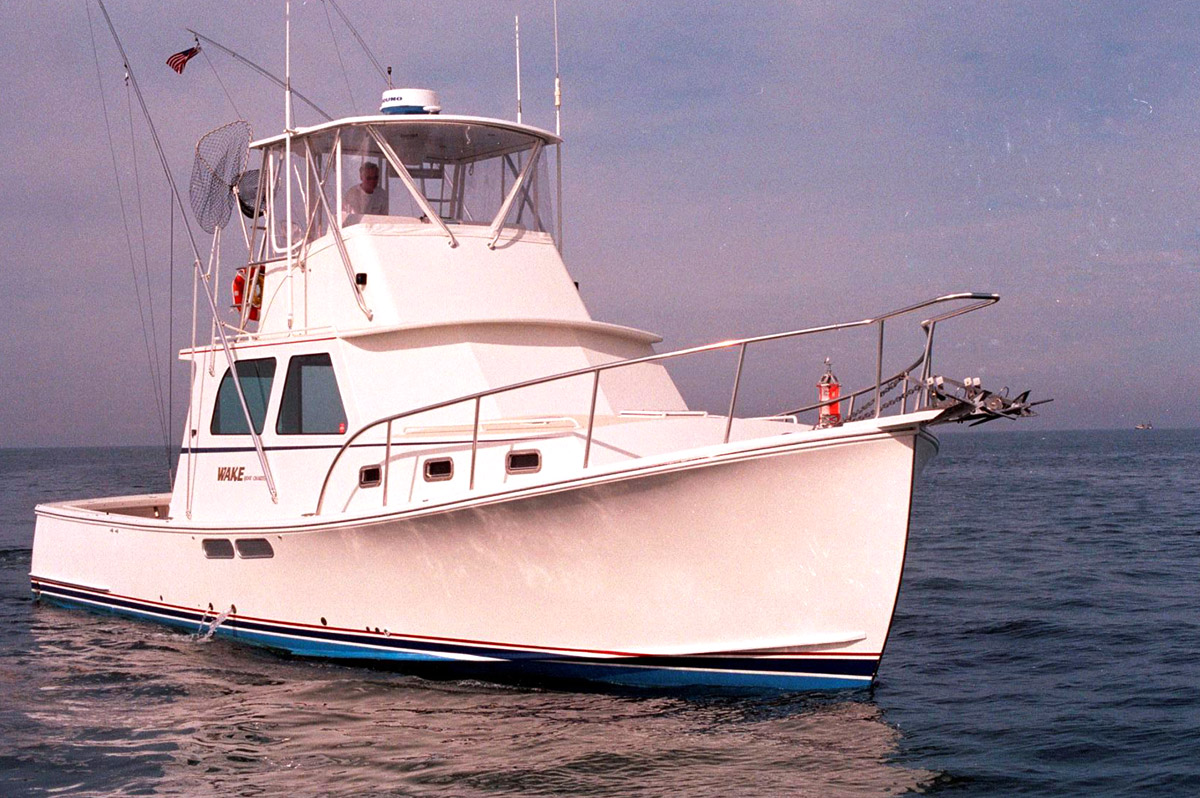 A few years ago, Dick Avery, of Avery's Boathouse and Charter in St. Thomas, USVI, set out to design a perfect cruising boat for a couple whom might have occasional guests. Calling on their many years of experience in the charter business, Dick Avery and his wife Marianne designed and built their dream boat, "Cranberry Gull", using a proven "Downeast Maine" semi-displaced Hull. In 1995, my wife and I finally had the opportunity to spend two weeks, by ourselves, on "Cranberry Gull" cruising the Virgin Islands. To make a long story short, this was, bar none, the best cruising boat we have been on. "Cranberry Gull's" layout could not be faulted. The planning and experience that went into this boat certainly paid off. The boat is roomy and spacious and has ample storage for those who have the good fortune to be able to spend longer time afloat. She's easy to handle, runs well, and has a good turn of speed when it's needed but, above all, it fire's the imagination! It is easy to imagine cruises on the coast of Maine, the Chesapeake, leisurely trips down the Intercoastal, across to the Bahamas and Caribbean maybe even over to Europe, the Canals, the Med….. Now, with Dick's guidance, working with our own in-house designer, we are ready to introduce The Wilbur "NORTHERN STAR", a 42′ cruiser. Not a plastic boat for the masses, but a handcrafted, heirloom-quality, rugged yacht. This yacht is for the selected few that have a sense of adventure.
Specs:
LOA: 42′
Beam: 13'3″
Draft: 4'6″
Fuel Capacity: 500 gallons
Water capacity: 150 gallons
Typical Configuration:
Concept: The concept of the Wilbur "Northern Star" 42′ was to build a boat which would provide as close to an ideal cruising livaboard boat as possible within given parameters. This boat would have exceptional range a low speed, to be able to operate efficiently at various speeds, and have sufficient power for a high-end cruising speed. The minimum cruise speed to be 15 knots. This meant a break from the traditional "trawler yachts" with their slower speeds and inherent rolling motion and from the newer "fast" trawlers with their best efficiency at planing speeds. We needed to look no further than our own semi-displacement Downeast hulls, one of the very few truly sea kindly hulls in the boat building industry today. We, at Wilbur Yachts, have recognized for some time that although many owners wanted a second stateroom, most now realize that guests were great for short stays but building the extra stateroom was a waste of valuable space. As you can easily see from the layout, the concept was to not "build the church for Easter" but to give you, the owners, exceptionally comfortable accommodations. For guests there is a comfortable couch, day head and shower aft of the galley, in the salon. There's space. Space for individual selves. Space to be together. There's space to live and enjoy.
Machinery: 400C Cummins (400 hp) or C9 Caterpillar (500 hp); Aquamet shaft; 5-blade 28″ x 24″ propeller; 2000 GPH (3) bilge pumps; Centek water drop muffler; 12V DC engine room blower; Hynautic (2 station) steering; stainless steel rudder; 500 gallons fuel in marine grade aluminum; Dahl fuel/water separator; automatic shower sump; bronze ball-type seacocks; Drytube and Shaftseal water lubrication for dry bilge.
Bonding System: Copper Buss fore and aft with external zincs to ABYC specs; hull and shaft zincs to MIL specs.
Electrical: Four 8D (800 amp/hr total) batteries; battery boxes enclosed with lids; Professional Mariner battery charger; custom panels with AC/ammeter, individual APG circuit breakers, DC/ammeter, volt meter, individual APG circuit breakers and spares; tinned copper wiring to ABYC specs; 30-amp 50′ shore power cord; individual overhead lighting, accent, halogen, and fluorescent to owners specifications; AC outlets as required by GFI in galley and heads; optional generator, inverter, and central vacuum.
Navigation Lights: Vertical filament bulbs to COLREG specs running lights; masthead anchor light; engine instruments on dimmer; 12V spotlight outlet on both helm stations; red LED compass.
Water System: 150-gallon capacity tanks baffled with gauge; 12 gallons AC and engine hot water; stainless steel sinks, galley deep double; aft cockpit deck shower; Raritan heads with Lecta San; 75-gallon fiberglass holding tank; Wye valve in holding tank.
Helm Stations: Upper and lower with lighted compass, engine instruments, Kobelt twin lever controls, fire extinguisher and helm chairs; lower helm has windshield washer, windshield wipers.
Deck Hardware: Two 12″ SS bow cleats; two SS bow chock; optional powered windlass; fiberglass pulpit (optional teak); SS Hawse pipe with cap; Lexan aluminum frame deck hatch; six SS opening ports with screens; center front pilothouse window (opens); custom sliding main salon windows (4); opening porthole aft head; two sliding pilothouse doors; aft companionway wood w/window, lift up lid; bridge deck wood w/window, lift up lid; SS fills, four fuel, two water, one waste; air induction baffled twice (200% of recommended min.); two well deck drains and two cockpit drains; fiberglass cockpit lazarette hatch; two 10″ SS spring cleats; two 12″ SS stern cleats; flagpole sockett on taffrail; four teak grabrails; standard mast and cargo boom; two standard helm chairs; custom stainless bow rail; chafe guard bow and quarter guards.
Galley: Seaward 4-burner propane stove w/oven; two 20 lb. propane tanks in vented locker/remote solenoid w/shutoff; custom fiberglass refrigerator/freezer w/holdover plates 12 cu. ft.; full size microwave over sink; double SS sink; hot and cold fixture with sprayer; cutting board (fits on sink); garbage can under counter; SS range hood vented outside; tiled sole; storage under counter drawers and lockers/over counter cabinets; pass thru hatch to bridge deck; deck prism over counters.
Optional Systems: Three zone reverse cycle air conditioning; generator w/Sound Shield in lazarette; Red Dot eng-driven hot air heater; Espar diesel heater; reverse osmosis watermaker; electric bow thruster; standard transom door; POR windlass; teak pulpit with anchor roller; custom bimini with windows; painted or goldleaf name and hail; 2200 watt inverter; electronics as required; TV, VCR, CD, DVD, stereo, etc.; computers built in as required; custom interior as required; many power options available.
NOTES:
Main Salon: One of the real highlights of the "Northern Star" 42, is the main salon. Entering from the pilothouse you see an attractive seating area with a comfortable couch and two movable armchairs surrounding a small coffee table, an ideal spot for relaxing and entertaining. Located on the port side is a beautiful foldaway dining table with a drop leaf. This luxurious table seats six comfortably. For the occasional guest or guests there is a plush couch which pulls out to form a double bed. Your guests will feel right at home with their own head. Although we hope they don't feel too much at home and not want to leave! This head is complete with a shower and is designed to double as a day head. The fine finish and precise joinery of this area reflects the skill and caring of the Maine boatbuilder, who crafted this boat with such obvious pride. Flexibility is very much in order when your "Northern Star" is being built. The crew, at Wilbur Yachts, have years of experience and have become very clever and adept at incorporating clients' ideas and wishes into their boats. The spacious interior on this boat will make the job even easier. A washer-dryer combo has two possible locations and a fireplace wouldn't be out of place, but please don't ask for a hot tub!
Galley: Located amidship is a galley that will bring joy to the heart of a gourmet cook. The sole in the galley is recessed down about six inches to define the chef's domain and allows full height counters from the galley side (36″ high) but puts them at a visually pleasing 30″ from the salon side. To port, in the galley, is the combination refrigerator freezer with over 12 cubic feet of storage space. The top of the counter wraps around to give over 12 feet of linear space to prepare sandwiches, buffet meals, etc. At the apex of the "U", the double sink allows easy clean up. A cutting board mounts over one of these sinks allowing vegetable preparation with the trash can located conveniently below. Above this sink, a fully, built-in microwave allows a solution to many cooking chores, such as reheating coffee or popping a bag of popcorn. If powered by the optional inverter the generator does not even need to be started. For a Thanksgiving turkey or gourmet dinner there is a 4-burner propane stove with oven. Two 20# tanks will allow months of cooking before needing a refill. To keep the cook cool, a range hood vents to the outside. An optional deck prism floods this area with natural light. Another touch on the "Northern Star" is the small hatch that allows the passing of sandwiches up to the bridgedeck from below. The galley countertops and fiddle details allow easy clean up. Cups and dishes reside in their own individual visible compartments, which adds to the practical, nautical charm of this galley. The sole of this area is covered with a high quality resilient flooring that is easy to clean up and adds a touch of color to boot. Grab rails, strategically located attest to the fact that this is a galley that is meant to be used at sea.
Pilothouse: The inside steering station offers protection from the elements while allowing a commanding view of the water. The steering station offers an ideal area for locating electronics, as well as, providing a full array of engine instrumentation. The main electrical panel for both the AC and DC is located just to port of the wheel allowing the helmsman to monitor pumps and electrical demands with simply a glance. Visibility is excellent and the standard washer-wiper ensures that it will be good even in the rain. The two forward windows can be opened when ventilation is needed and this along with the sliding doors ensures that lack of air is not going to be a problem in this area. Located on the port side of the pilothouse is a large chart table with a lift up lid to access the spacious storage for charts below. A locker below this table has another locker below for miscellaneous storage. Located behind the helmsman is a raised couch that is boxed in below to provide a huge storage area. Sitting on the couch your eyes are at the perfect height to watch the world go by. On long passages, the watch can scan the horizon, make course corrections with the autopilot remote, and generally relax and enjoy the trip. In the teak and holly sole, three hatches provide easy access to the engine room. The center hatch is really only necessary for major engine work. The reliability of modern diesels means it won't be opened very often.
Master Stateroom: The master stateroom features a queensize island bed. Light colored sheathing strips finished in satin varnish line the hull on each side. Tucked up under the side decks are lockers with sliding doors. At the head of the berth, the rope locker bulkhead is finished white with a varnished locker door on the center. The use of light colors contributes to the light and airy feeling of this area. Between the hanging locker and the berth on the port side is a built-in chair, which provides the perfect place to sit and read or watch TV. There is even a small shelf conveniently located to hold your morning coffee while you read the paper. The hanging locker is large enough to hold an ample wardrobe of clothes. A small counter could be set up next to the stairs on the port side to hide the TV or in this day of faxes and email, the computer. The office of today can quite easily be accommodated. Located on the starboard side is a vanity makeup area with a swing out seat. The sole is finished in teak and holly with steps going up on each side of the berth. There are drawers beneath the berth on the end and each side. A deck hatch and opening ports allow for light and ventilation.
Forward Head: The forward head contains a separate enclosed shower stall, vanity counter with sink, and a marine toilet of your choice. The head can be plumbed to go directly to the holding tank or overboard it permitted. A "Lectra San" to treat the waste for immediate disposal can also be installed. A solar powered ventilator, which runs whenever it sees sunlight, ensures a continuous change of air in this area. Above the sink, a mirrored medicine cabinet provides an ideal spot for storage of small items.
Bridge Deck: The bridge deck is probably where the most time will be spent. Accessed from the pilothouse or the cockpit, this is the ideal spot to lounge on either of the two settees on each side of the helm or beside the dinghy further aft. A hammock could easily be rigged from the mast and boom…what an ideal spot to watch the comings and goings of the anchorage. This is also a spot where toys, a windsurfer could be stowed here, the bicycles could be stowed in the dinghy, and perhaps there's a small jewel-like sailing dinghy for the frustrated sailor to tour the harbor before cruising back to the mothership to tell of his adventures. The upper helm provides an ideal view of the water. As the bridge is not on top of the pilothouse the profile is lowered and this reduces windage and will allow the boat to get under an 11'3″ bridge with mast folded down. The windshield breaks the breeze and allows a sheltered spot to put a chart and duplicate electronics if desired.
Performance: While performance depends on many factors, we have enough history with this hull to give a fairly accurate prediction of its performance. With 400 hp the boat will do about 17-19 knots flat out. The range at this speed will be around 400 nautical miles. Cutting back on the throttle will increase the range considerably. At 8-9 knots the range jumps up by 1000 nautical miles to a total cruising range of over 1400. This is with the standard 500 gallons of fuel. Larger tanks can be fitted. Again, flexibility is the key at Wilbur Yachts when we are building your "NORTHERN STAR" cruiser.